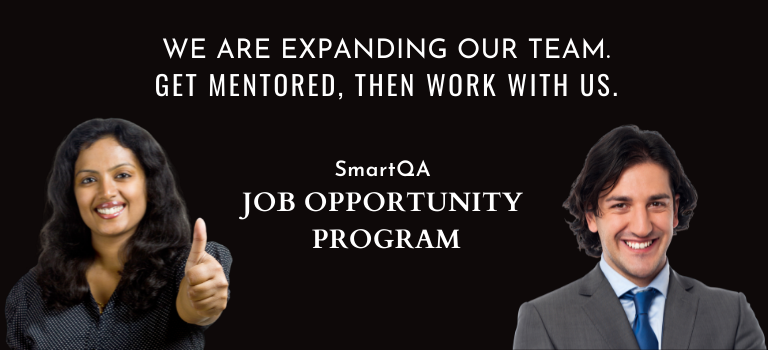 SUMMARY
A practitioner oriented program to groom modern SmartTester.
Become part of STAG on successful completion of program.
Intense focus on doing rather than listening unlike typical programs.
Participants mentored to test smartly, not just taught topics.
Covers full life cycle of dev, programming and then testing.
This is not a typical 'manual and automated testing' curriculum.
Entry criteria – BE/BTech, MCA/BCA/MSc(Computers) is required.
Should not be averse to programming, as you will build a full web application.
A TWELVE week full time mentoring program (9:30-6:00PM).
Conducted at STAG office, Bangalore (could extend to 15 weeks).


Fees : Rs 44,000/- plus taxes (Total Rs 50,000/-) to be paid in TWO instalments. First instalment (Rs 35,000/-) at time of enrolment, second (Rs 15,000) at 8th week.
Starts Jan 5, 2022 (Wednesday).
How do I enroll in this mentoring program?
Fill in the "I am interested form" below. We will have an online discussion to understand your interest, willingness, basic technology & programming ability to ensure successful mentoring. Post the discussion and acceptance you will be required to make the payment to enroll in the program.
PROGRAM CONTENTS
SMART THINKING MINDSET – Scientific thinking, systems thinking, contextual understanding, writing styles, social aspects, mind-mapping.
SOFTWARE ENGINEERING– SDLC, Agile Dev/DevOps, Specification, CI/CD, Product engineering
TEST ENGINEERING– Tester mindset, System understanding, Observation & note-taking, Immersive Session Testing , Test process/practice, Reviewing & questioning Requirements/user stories, Test approach & design, Test documentation, Quality metrics, Doing various tests (functional, load, performance, API, web, mobile, database).
TEST AUTOMATION & TOOLING – Test automaton tools (Selenium, JMeter, Cypress,Postman), Test management (TestLink, Jira), Build management (GitHub)
TECHNOLOGY – Understanding modern full stack applications. Familiarity with database tech, mobile apps, conversant with Linux, comprehend networking, understand modern deployment (Cloud, SaaS, Microservices).
INDUSTRY ORIENTATION – IT Industry overview, Roles & Responsibilities in SW Organization, Work ethics & global work culture, Presentation skills, Questioning skills, Time management.
Industry NEEDS
How this is met